Tucked away in a north-western corner of the Czech Republic is a land that – unless you saw it with your very own eyes – you would be forgiven for only discovering it in your dreams. Located just under two hours' drive from Prague – the country's stunning baroque capital – is an equally stunning national-park wilderness, the likes of which has Hollywood location scouts fantasising over its other-worldly charms. This, dear readers, is Bohemian Switzerland – a jaw-dropping, craggy, woodland expanse with sunsets to die for and vistas that blur the lines between fantasy and reality.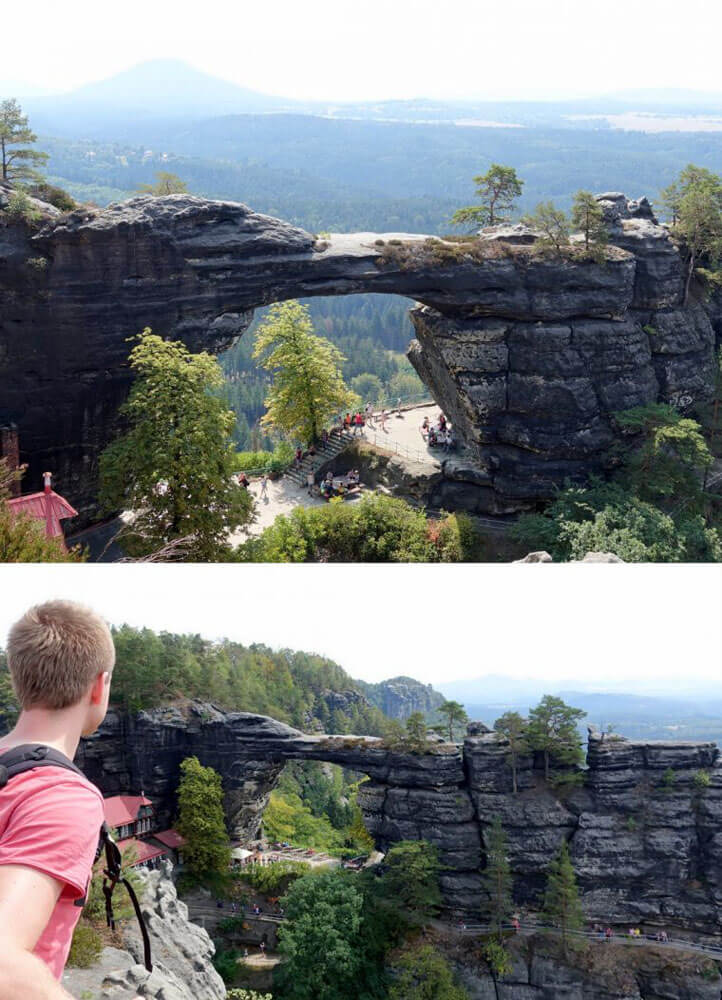 A stone's throw from the German border, hiking in this region is one of the best day-trip options from Prague, a journey that I was only too happy to participate in recently. It's a fairy tale landscape at any time of year (although purists will champion a colourful autumn or a snowy winter as the deluxe experience). Whenever you decide to visit, you're going to be rubbing your eyes in disbelief at the panoramas that surround you, the goosebumps that will rise on your arms, and the catching of breath in your throat. You'll be in a Bohemian Rhapsody – and I'm making no apologies for that.
SWISS, CZECH AND GERMAN
Now, the eagle-eyed or the geographically wise amongst you will notice that Bohemian Switzerland isn't actually in Switzerland at all. Its etymology apparently stems from two Swiss artists being reminded of their homeland while they were painting here circa the 18th Century.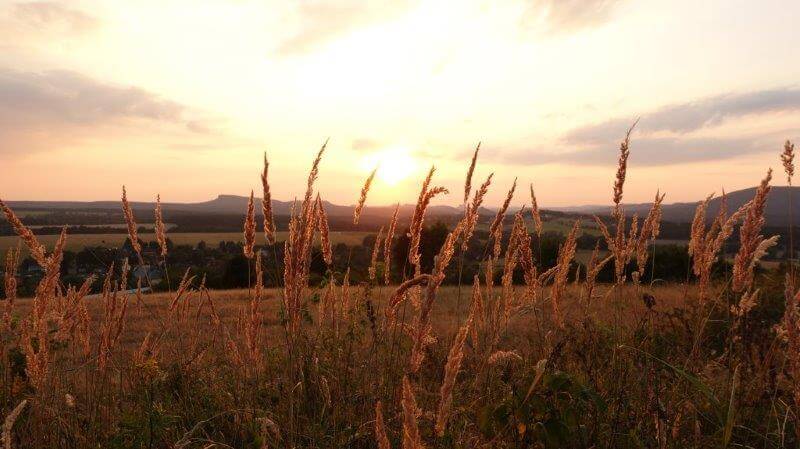 It's combined with Saxon Switzerland – an area to the north in Saxony, Germany, with the two regions each having a share of the Elbe Valley and its sandstone mountains. It's these mountains that give the national parks their famously distinctive rock formations – which are likely to be just one of several highlights during your hike here.
STEPPING THROUGH THE WARDROBE
Joining me on this wonderful excursion was a group of fellow writers and travel bloggers, 13 strong in total, all keen to see the landscape of Narnia. It was here that director Andrew Adamson shot on location for the 2005 movie based on the classic CS Lewis tale; The Lion the Witch and the Wardrobe. Naturally, it would have to be a particularly spectacular locale to do justice to this much-loved fantasy realm, and it most certainly did not disappoint. Over the course of three days, we were to experience the very best the region has to offer.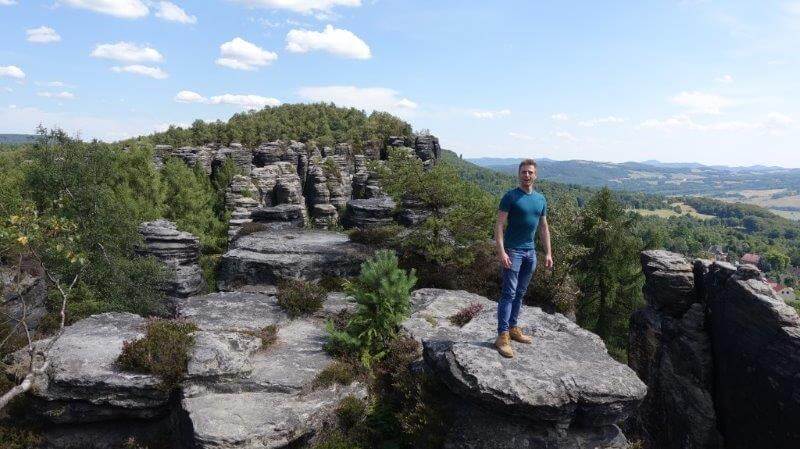 Tisa Rocks was our first port of call, one of the main attractions in these parts and the view that greets Lucy when she first sets foot through the magical wardrobe. These uniquely carved sandstone formations can stand up to 30 metres high, so you'd better have a good head for heights if you want to walk on top of them. Also known as the Tisa Walls, they've slowly been sculpted and eroded into their impressive shapes over a period of 90 million years and you will feel like you're in another world as you wander among them.
GOLDEN SUNSETS
As if it wasn't enough that Bohemian Switzerland boasts some of the most beautiful scenery in the Czech Republic (or anywhere for that matter) we were treated to a number of truly gorgeous sunsets across a landscape that appears to be in perfect harmony with the sky. Nature's paintbrush can often be a fickle mistress when hiking in the great outdoors, but she was at her very best for us here and the weather is generally favourable all year-round.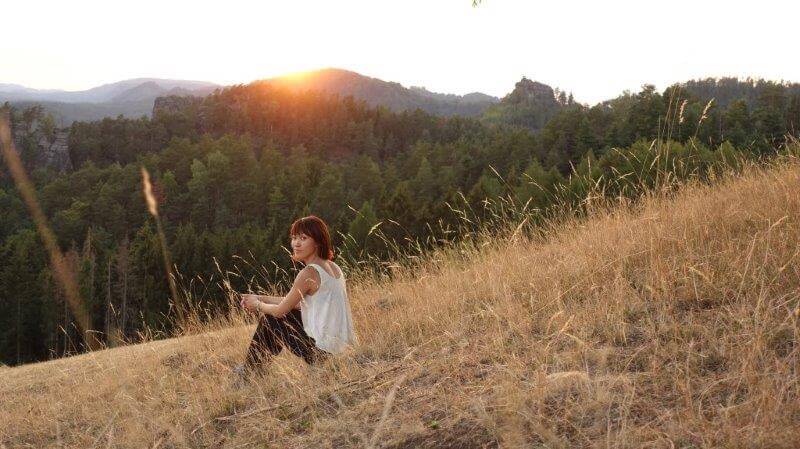 The colours that the setting sun will bring out of an already magical landscape will live long in the memory, and you'll be hard-pressed to recall its equal. The photographs – as ever – don't do it justice.
THE BIGGER PICTURE
And speaking of photographs, it is without a doubt that the shutter button is pressed the most is when hikers first clap eyes on the Pravčická brána gate – the largest sandstone arch in Europe. It's not too dissimilar from a giant picture frame, as you can probably glean from the many photographs taken of – and through it. Tucked into its shoulder is the "Falcon's Nest" chateaux, a former hotel built in 1881 that now serves as a gallery and traditional restaurant.
It's another geological feature to be the star of a Narnia scene, but you're no longer allowed to walk across the top of the gate as the park is attempting to preserve it for as long as possible. At the time of writing, this is estimated to be about 10,000 years – so you don't need to be in any rush to see it in its current glory. It was with the help of camera trickery that characters in the film are seen atop the sandstone arch, which would wear away significantly faster should it be subjected to considerable foot traffic.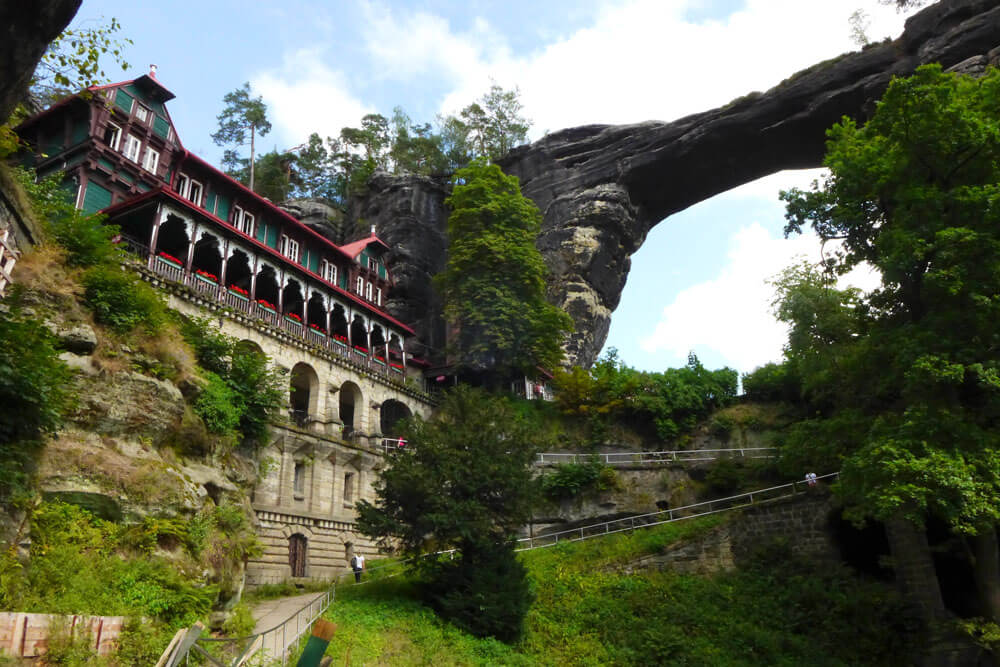 It is the poster child for these parts, and rightly so, an iconic symbol of the beauty of Bohemian Switzerland and the most distinctive of all the formations in the Elbe Valley. It was well worth the 18-kilometer round-trip it took to reach it, a hike blessed by some truly spectacular countryside.
CRUISING THE KAMENICE
Leaving the gate behind and in working your way back to civilization you'll enjoy one of the most famous and picturesque hikes in the region, a route by the name of Gabriela's Trail. This leafy, forest course winds its way through more distinctive rock formations, while the sun begins to bow his head through the canopy above.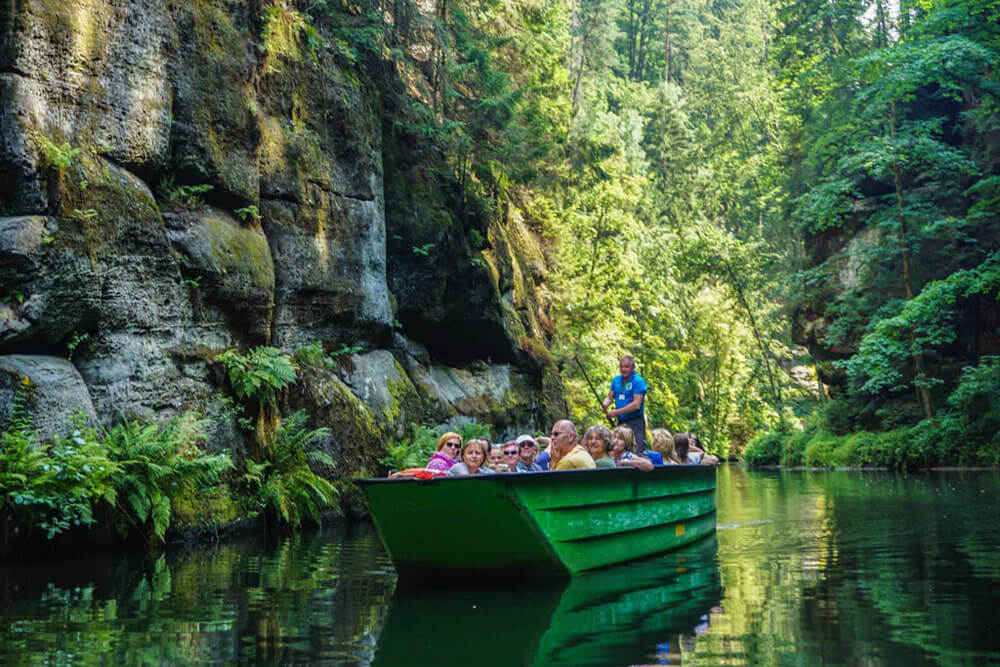 Eventually (and thankfully – for there were several pairs of weary legs among my companions) we arrived at another highlight of any visit here – a boat trip on the River Kamenice. It gently carves its way through the Edmund Gorge, a 960 metre stretch of rock and water, that is as photogenic as it is peaceful. Also known as "the quiet gorge" the boats are punted along similar to a Venetian gondola in order to preserve the silence. They know how to romance you in these parts, that's for sure.
THE OLD MILL
Bohemian Switzerland offers much in the way of ancient natural architecture but hidden away amidst the sandstone faces and lush greenery, you'll discover some interesting man-made history too. Dating back to 1515, Dolský mlýn is little more than a ruin now, but what a charming place it is, and the site of numerous true stories, as well as fairy tales and legends that could put even Narnia itself to shame.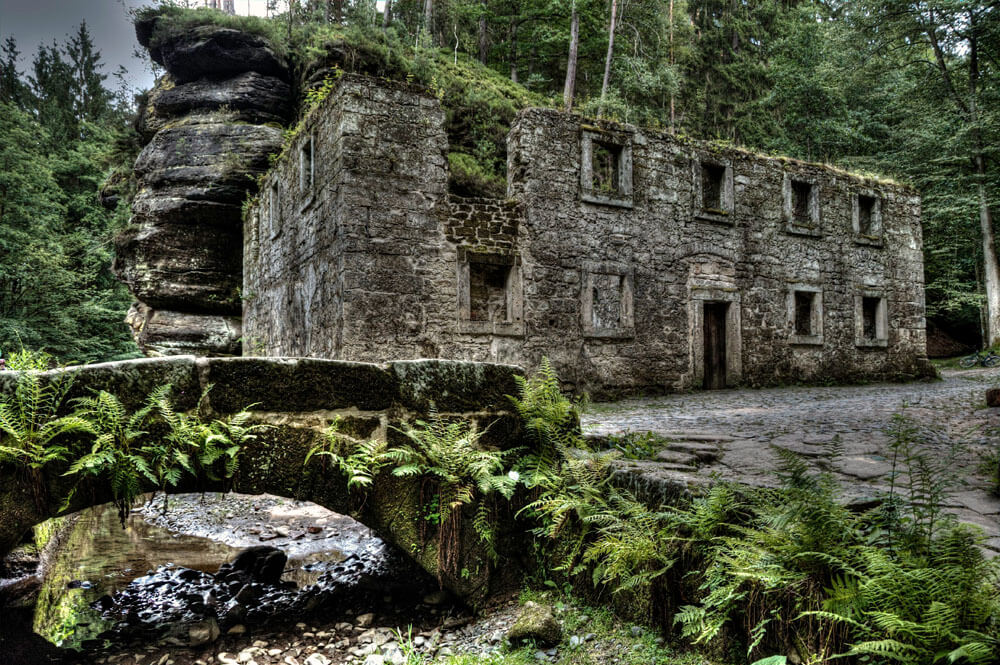 The building has changed hands several times over the years, from its original intended use as a water mill to a distillery, restaurant, public house and even a headquarters for border guards and customs officials. Finally abandoned in 1945, it has been left to be reclaimed by the beautiful nature that surrounds it but will lose none of its magic in the process.
A BOHEMIAN BOOST
There's ample opportunity to cool off in the shallow waters of the Kamenice, swimming amidst a woodland paradise, soothing your aching muscles while reflecting on your journey so far. And just when you think you're ready to close your eyes and drift away, there's a chance to sample the coffee culture of the region and enjoy a welcome pick-me-up.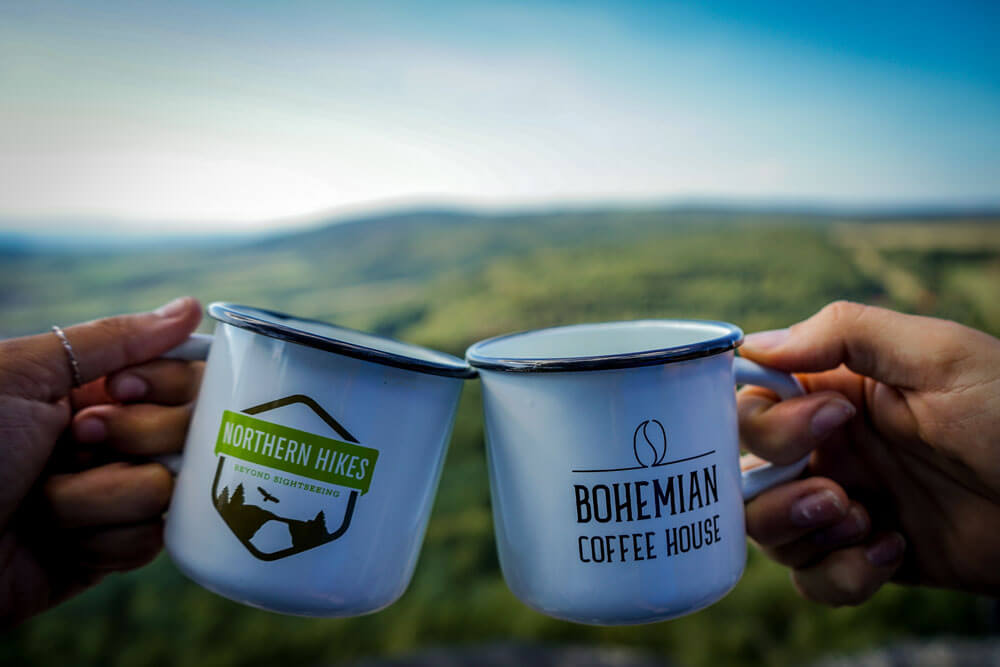 In the late afternoon sun, relaxing on the top of Rose Ridge and looking out across what is arguably the best view in Bohemian Switzerland, we sampled delicious java from a local family-run coffee house. The only downside to that moment was it rapidly drawing to an end, and soon we would need to step back through the wardrobe. It's always there though – should we ever wish to return.
A SPELLBINDING EXPERIENCE
You don't have to be spiritual in any way to feel a certain magic when presented with such sights, and it'll be particularly special if you hike this region with a loved one – as it's very romantic indeed. And with the summer waning and giving way to autumn, the explosion of colour in these parts is only going make it even more remarkable. Then, when the snow is falling steady and rests heavy on the ground – you'll truly be in the land of the White Witch. At least until Aslan shakes his mane.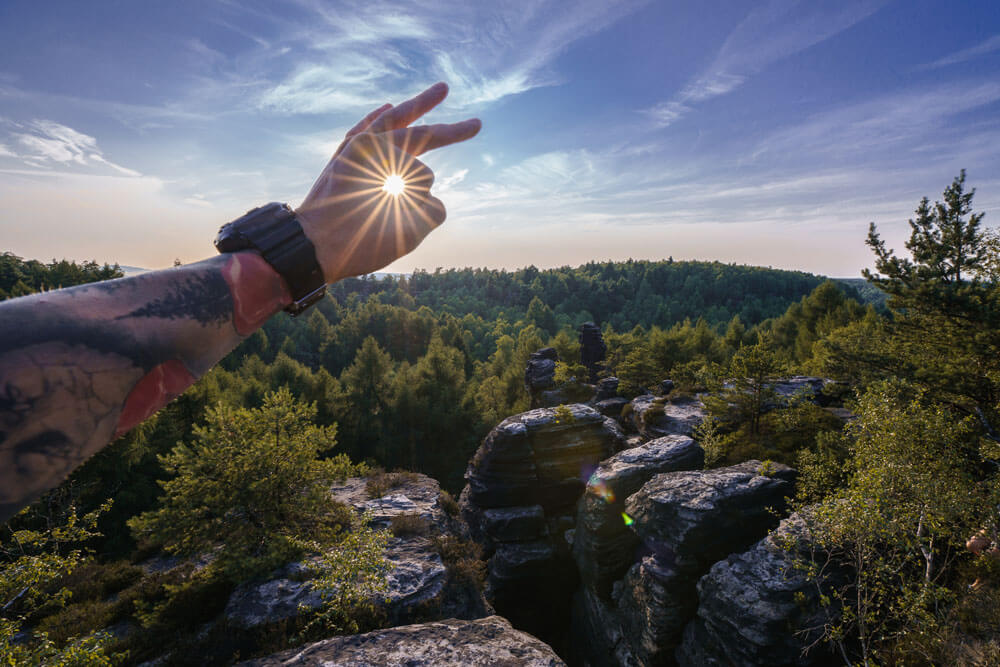 Our guest blogger Cez is typically an author at eTramping adventure travel blog. Originally hailing from Poland, he's been on a mission since 2011 to bring you the best travel advice, tips, tricks, guides and stories from the adventures and experiences around the world – including those in Bohemian Switzerland.