What is a trip to Bohemian Switzerland compared to other treks?
The great advantage of Bohemian Switzerland are well-groomed and easily visible hiking trails, which make it easy for you to navigate. The Czech Republic is also known for its precise marking of hiking trails, so you definitely don't have to worry about getting lost.
If you have signed up for one of our tours, an experienced guide will guide you through the National Park. Most of our guides are natives directly from Bohemian Switzerland, who have gone through all the hiking trails several times to the full detail. Small tourist groups are a big advantage too, as they allow you to talk with the guide about the places you are going through.
Only a basic physical condition is enough to take a convenient trip with a beautiful experience of the surrounding forests and unique rock formations.
How difficult is hiking in Bohemian Switzerland?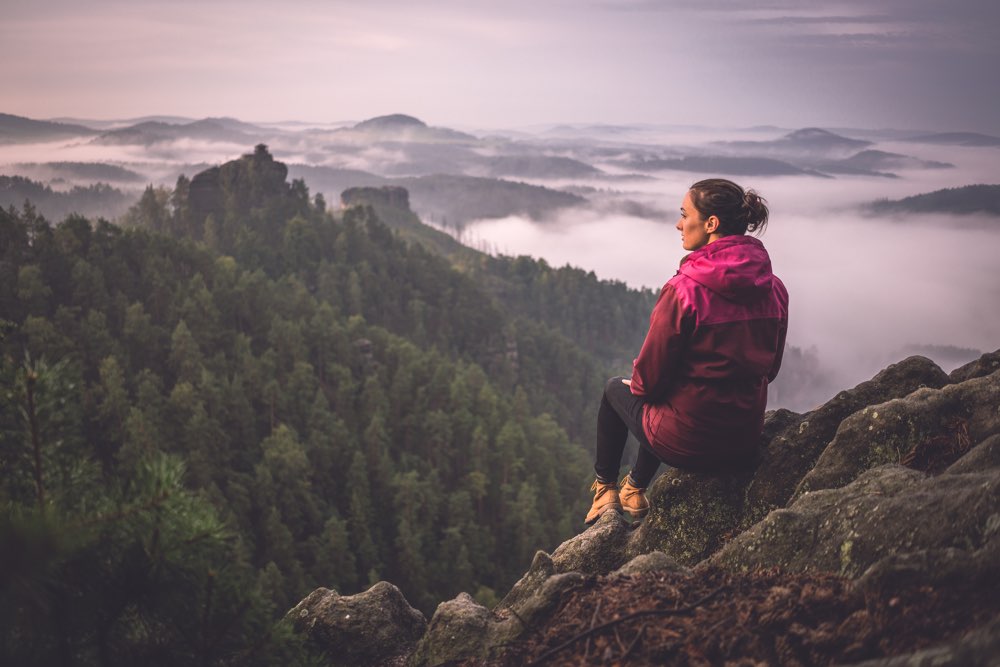 Depending on the tour you choose, prepare for a few hours of walking. Both tours last 11 hours together.
● A simple tour is also suitable for families with children and together you walk a distance of 5 miles.
● During a more demanding tour, you walk 10 miles and is suitable for more advanced tourists.
There are no big elevations on the track, you will climb a few tens of meters at the most, while you will have high rock formations around you. Compared to this list of hikes in Europe, the Bohemian Switzerland tour is a longer walk.
Across the internet, you must have seen photos taken at stunning viewpoints in Bohemian Switzerland, but you don't have to worry about having to climb hundreds of meters to enjoy similar views as well.
Hiking gear in Bohemian Switzerland in spring and summer
Most tourists visit Bohemian Switzerland during spring and summer. Trails are mostly dry, the only exception can be a period of rain. At that time the trails tend to be wet and mud can be slippery in some places.

What to pack?
Trek can also be managed in sports sneakers, but for greater comfort, we recommend wearing sneakers with a fixed sole (not flat and smooth).
The spring months can still be cold, so we recommend that you take a warm jacket with you. We recommend putting on something with long sleeves and long sports pants.
While the temperature in Prague is very hot during the summer, the forests of Bohemian Switzerland are a pleasant place to cool down. During the trek, you will feel comfortable wearing just a short shirt and shorts.
All you need is a small backpack to store your valuables to comfortably trek.
We will take care of water, refreshments and traditional Czech lunch. If you are interested in the vegetarian version, please let us know in advance. This will make your backpack a little lighter.
Hiking gear for Bohemian Switzerland in autumn and winter
In autumn and winter, Bohemian Switzerland will change to a completely different country than during spring and summer. Tourists consider these two periods the best, because the usual crowds are gradually disappearing, and you can enjoy more and more empty trails.
Autumn turns nature red, orange and yellow, but rain can also be expected. The trails are covered with fallen leaves and may be a little slippery after the rain.
On the other hand, in the winter Bohemian Switzerland will turn into a snowy region, with only the peaks of the rocks sticking out, just like in the movie The Chronicles of Narnia which was filmed there.
Slippery terrain and a layer of snow need not be underestimated, so your comfort requires slightly different equipment than in the spring and summer months. If you did not bring it to the Czech Republic, do not despair, you can borrow it from us.
What to pack?
● On sunny days, the weather can provide warmer feelings. Therefore, we recommend taking more thin layers of clothing that you can take off at any time if you feel too warm.
● A waterproof jacket and pants if you catch rain showers are nice to have.
● In winter, wear a warm cap and gloves.
● In autumn and winter, it is good to wear hiking boots. They don't have to be as special as for demanding hike, but a reinforced foot on slippery terrain will give you more comfortable walking on the sidewalks. They should also be waterproof, so they don't get wet from the snow.
● If you have space in your backpack, you can bring a thermos flask with tea to warm up.
● We will take care of the water, small snacks on the move and traditional Czech lunch again to make your backpack a little bit lighter. Let us know in advance if you want a vegetarian meal.
No matter the time you go to Bohemian Switzerland, always remember to pack a good mood and camera to capture the beautiful places waiting for you during the trek.