This was the vibe that we got when we met the team behind Northern Hikes. This local Czech company was born out of a passion for the outdoors as they share a piece of a place they call home, the Bohemian Switzerland National Park.
When we travel, we always seek out unusual experiences and adventures that go beyond the touristy path which is why we love the driving force behind Northern Hikes which is to help travelers escape touristy Prague and experience something beyond the usual sightseeing.
COFFEE AND CANYONS TOUR
When we first heard about coffee tour, my partner Tom looked at each other and laughed. Like many coffee lovers out there, We felt like it was a tour created after our own hearts being lovers of coffee and the great outdoors. This tour is done in collaboration with a local family run coffee shop, Bohemian Coffee House.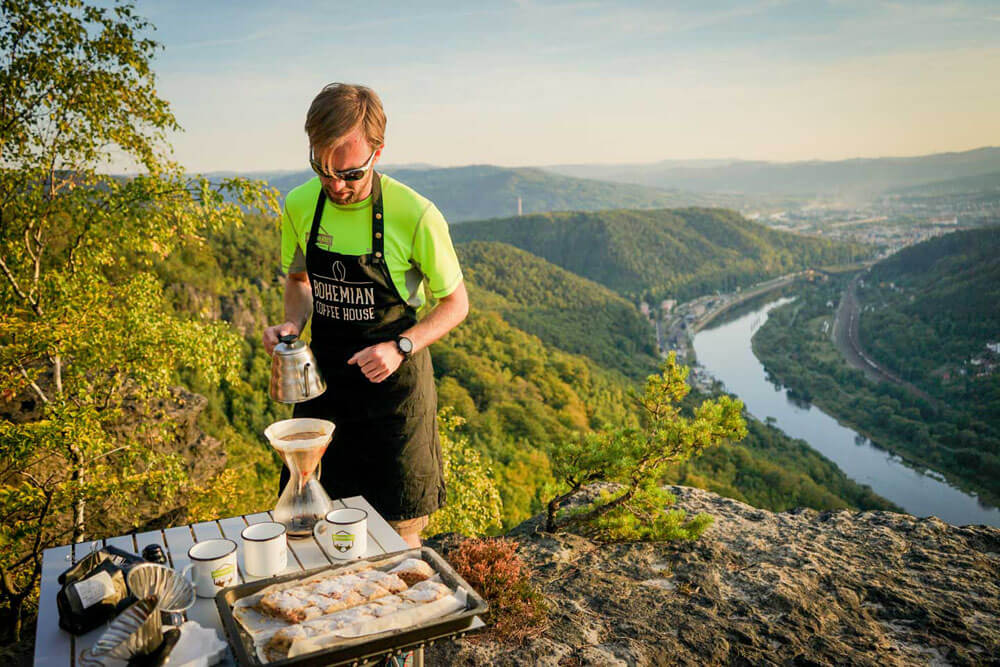 Not really knowing what to expect, we set off for a day of fun together with our guide, Vojta. If you're coming from Prague, Northern Hikes run a door to door tour taking you to the best parts of Bohemian Switzerland National Park.
DOGA HIKE AND THE TISA ROCKS
From the carpark, we started making our way through the forest as Vojta pointed out unique features of the area we were in. After a couple of minutes or so, we reached the viewpoint and suddenly, everyone in our group fell silent. The team at Northern Hikes promised to take us to some incredible viewpoints to enjoy our coffee and boy, they were definitely not kidding!
Right before us were these incredible sandstone rocks which varied in size and shape. However, the most prominent of them all was the Pinnacle of the Doggenturm or Doga. To make the scene even more exciting, as we reached the edge of the rocks, there were a group of rock climbers who were making their way to the top of the pinnacle.
As soon as we got to our spot, our guide, Vojta started setting up for our first coffee ritual of the day. He demonstrated how to use an Aeropress and started grinding fresh coffee beans from Sumatra, Indonesia which was roasted directly at Bohemian Coffee House.
We all gathered around taking in the fresh aroma of freshly ground coffee beans and eagerly waited for our first cup. Although we love coffee and the outdoors, we have shamefully resorted to instant coffee whenever we're outdoors camping. After seeing the setup that the team at Northern Hikes had, we will definitely have to rethink our outdoor coffee strategy from now on!
The coffee was delicious but what made it even better was the fact that we could sip and drink it while staring out at these incredible sandstone formations. After our coffee, we took a break and headed out for lunch. If there is one thing we learned from our time in the Czech Republic it is that there is nothing better after hiking than a hearty meal and a cold beer.
After lunch, we went to the popular Tisa Rocks which were popularized by the movie Chronicles of Narnia. Although Northern Hikes prides themselves in taking you to off-the-beaten-path locations, a visit to the Tisa Rocks is a must!
While we walked around the took photos, I could only imagine what these rocks look like during the Winter time. Seeing the rocks covered in the snow must be nothing but magical, which is why is their tour Narnia Labyrinth and Bastei Winter Walk one of Northern Hike's most popular tours.
THE ELBE RIVER CANYON
Right in time for sunset, we made our way to yet another hike heading towards Rose Ridge, a viewpoint which supposedly overlooked the Elbe River. At this point, we were eager to see the next part of the coffee and canyons tour so we all eagerly followed along.
As soon as we reached the end of the trail, the usual chatter disappeared as everyone scrambled to grab their camera. I honestly must have taken 10 photos at the exact same spot as I was so excited to see the incredible view!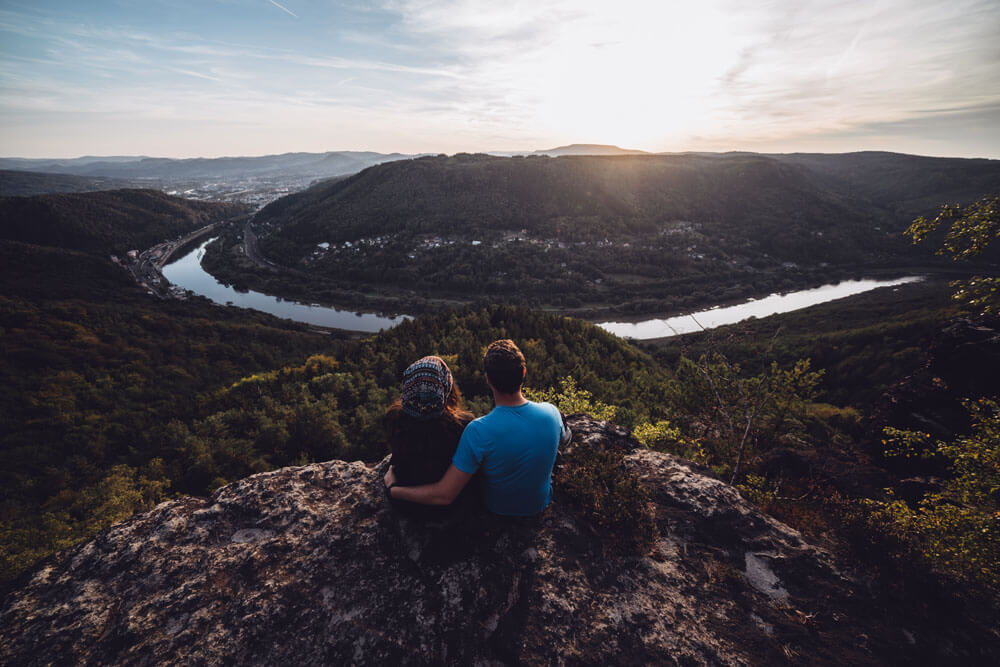 The co-founder of Bohemian Coffee House, Mr. Jiri Duzar, his wife, and their lovely dog joined us for this leg of the tour and even brought some freshly baked strudel. Bohemian Coffee House was founded by a father and son duo after discovering their passion for specialty coffee during a 2-week road trip in the US. Northern Hikes is committed to sustainable tourism which is why they opt to partner with local businesses within the area.
Vojta began setting up his coffee table right at the edge of the canyon. I have to say, I have never seen coffee being prepared in such a picturesque background. For our afternoon coffee, we had Ethiopian coffee beans prepared in the Chemex. This pour-over style glass coffee contraption was made in the 1940's which gave a unique flair to our coffee preparation. The other cups we had were then prepared in the drip-style Hario V60.
The coffee together with the strudel was a match made in heaven and just when I thought it couldn't get better, the sun started setting, illuminating the sky into various shades of pink and orange. It was indeed the perfect spot to watch the sunset and was the perfect way to end our day.
SUSTAINABLE TOURISM
Overall, we had a blast adventuring it out with the guys at Northern Hikes. Their Coffee and Canyons tour is a fantastic marriage between finding off-the-beaten-path places within the National Park and their burning drive to promote sustainable tourism.
One of the reasons why they are continuously coming up with new tours is to prevent over tourism in the National Park which is something we're 100% behind. If you are looking for a unique experience away from the tourist trails, this experience is something I highly recommend.
Let me ask you when was the last time you were served coffee with a view?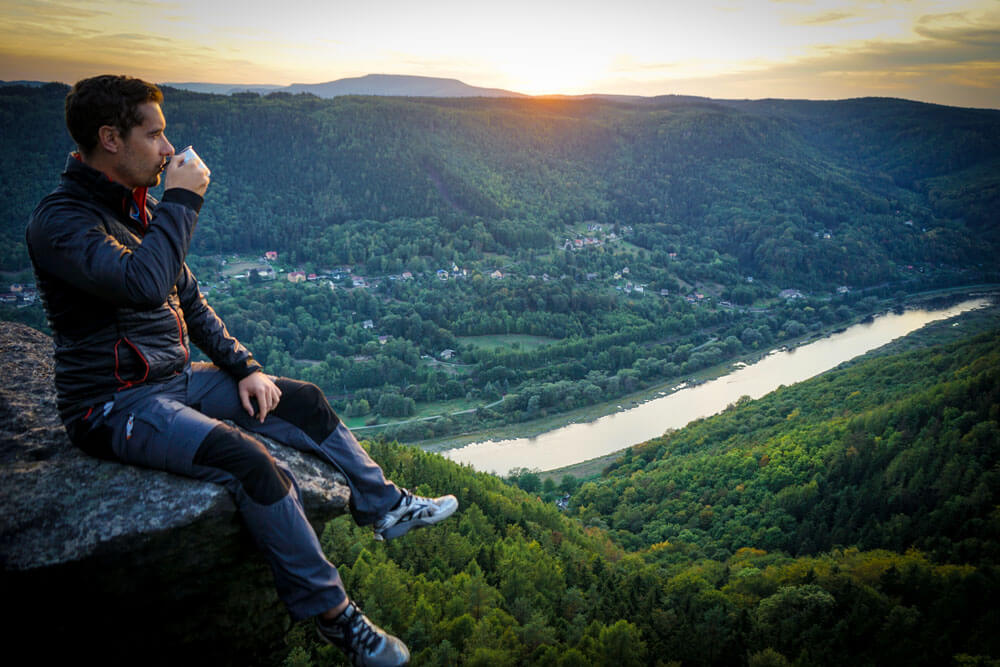 This guest post was written by Anna Faustino, ½ of the adventurous duo behind Adventure in You, one of the top 20 travel blogs in the world. You can follow their misadventures on their website or on their Instagram account.