1.HOTEL OSTROV
As the name suggests, Wellness Hotel Ostrov places a strong emphasis on providing top-notch
wellness facilities. Guests can indulge in a variety of rejuvenating experiences, including a spa, sauna,
and wellness center. The spa offers a wide range of treatments and massages to promote relaxation
and well-being. Additionally, there is a well-equipped fitness center for those who wish to maintain
their exercise routine while traveling. The rooms offer stunning views of the surrounding landscapes.

And what about food? At the hotel's restaurant, you can savor gourmet meals made from fresh,
locally sourced ingredients, prepared by talented chefs. The restaurant caters lovers of fine wine
and beers because local beer is MUST HAVE. Also can prepare special dietary meals upon request. So
whether you're looking to unwind in the spa, explore the scenic landscapes, or indulge in gourmet
cuisine, Hotel Ostrov aims to provide a memorable and rejuvenating experience.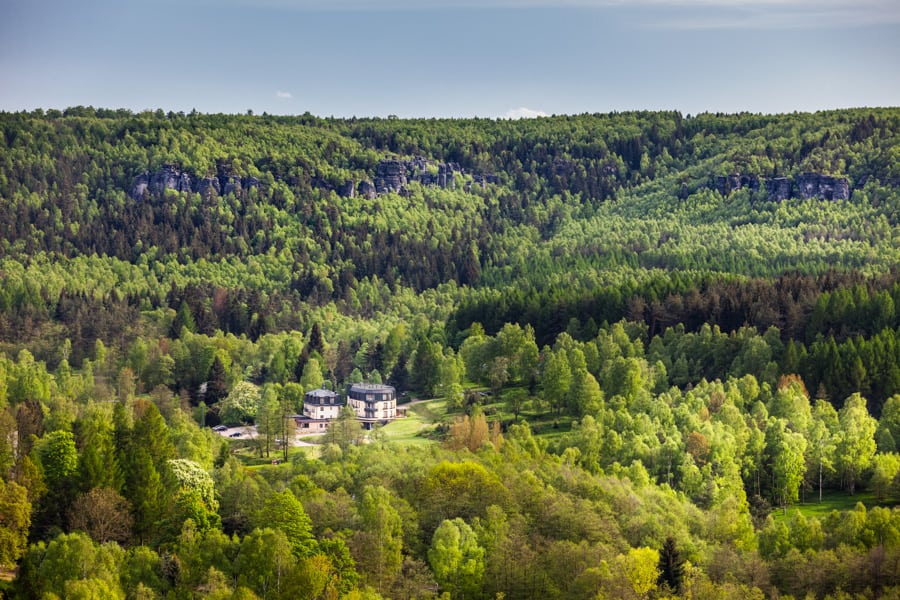 2.CHATKA-A
Indulge in a memorable stay at Chatk-A in Chřibská. Renovated A-shaped cottage. This charming
glamping cottage offers a perfect blend of comfort and tranquility. It's located nearby the Bohemian
Switzerland National Park where you can embark on exhilarating hikes. Stunning yourself in the
breathtaking beauty of the Lusatian Mountains, it serves as an ideal base for exploring the natural
treasures, or just stay at place and start a fire in the unique fireplace, read one of the travel books or
just watch the sunset as if in the palm of your hand on the terrace. For adventure enthusiasts, rock
climbing and cycling trails are abundant.
After a day of exploration, retreat to your luxury accommodation at Chatk-A, complete with modern
amenities and a welcoming atmosphere.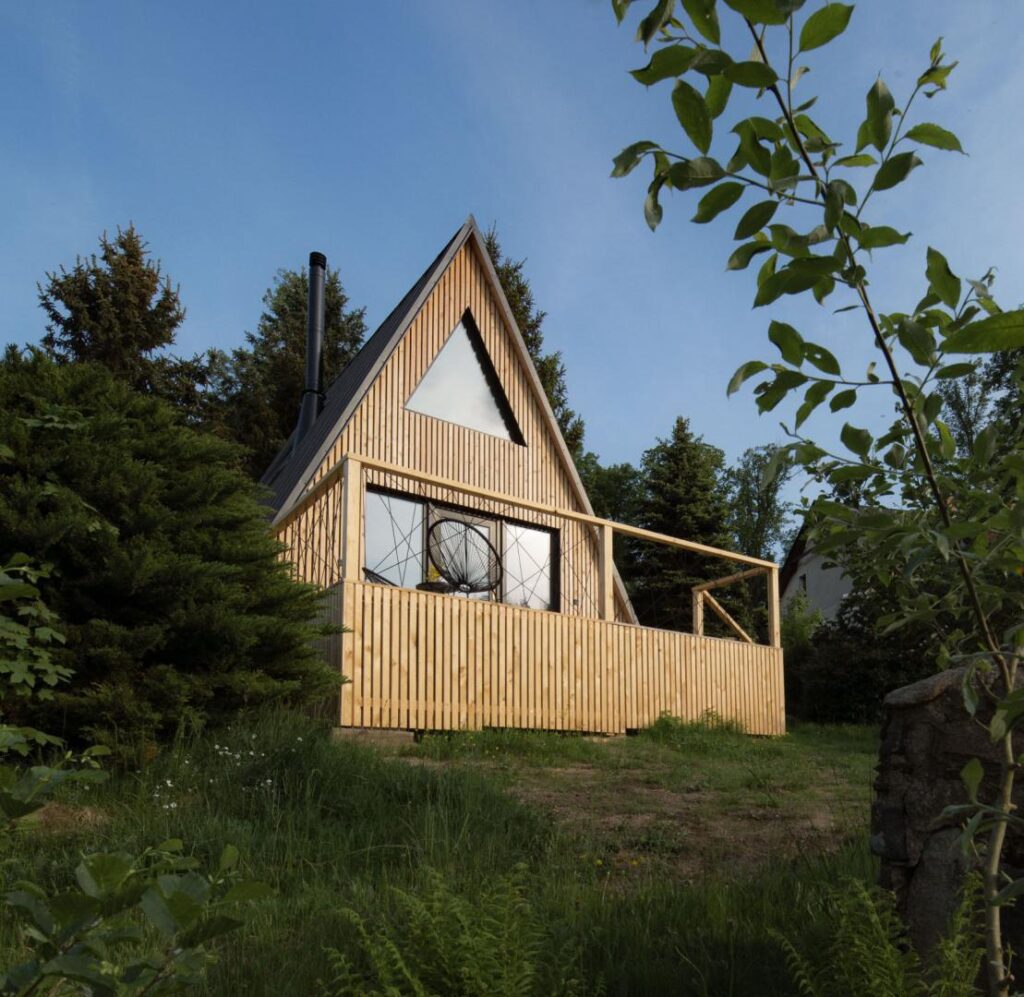 3.STARÁ PLYNÁRNA
Nestled in the heart of the Czech Republic, Hřensko's most romantic spot awaits: Stara Plynarna (The
Old Gasworks). Surrounded by rocky cliffs and embraced by a gentle stream, this seemingly cold
exterior hides a cozy and warm interior. Don't miss the restaurant's main attraction, the small
"astronomical clock." Explore nearby wonders like Pravčická Gate, Hahnwiesen, Ponova Meadow,
and Nad Dolským Mlýnem. As with other accommodations in the Czech Switzerland region, this
unique guesthouse offers abundant outdoor activities. Experience the perfect blend of rustic
elegance and modern comfort, with access to the awe-inspiring Bohemian Switzerland National
Park. Unleash your spirit of adventure at Stará Plynárna in Hřensko!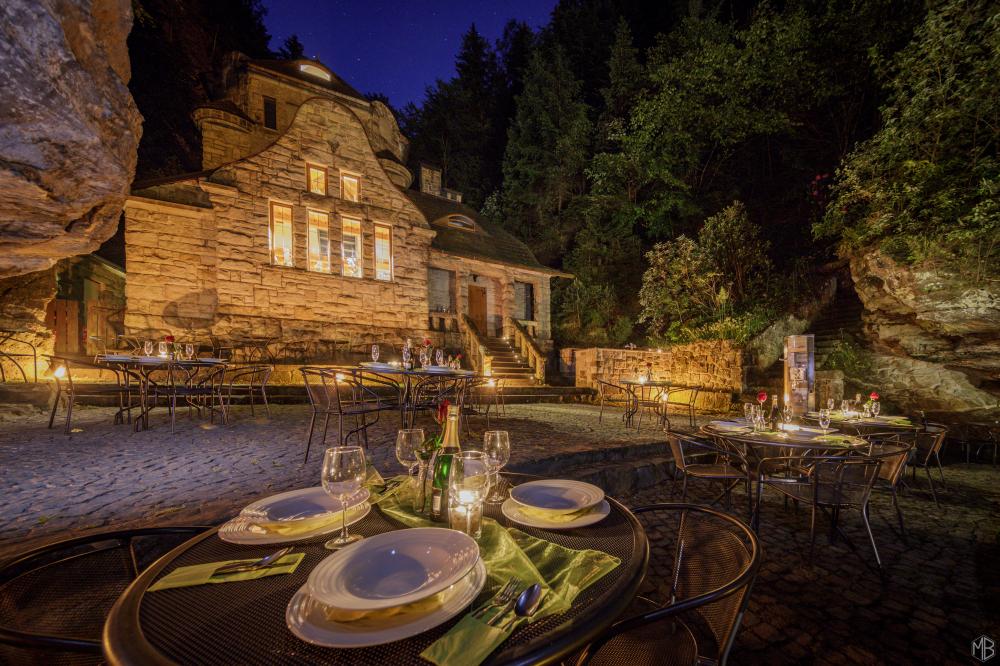 4.U FOŘTA
Experience the beauty of Hřensko by choosing to stay at U Fořta. They offer you a delightful retreat
surrounded by breathtaking natural landscapes. Explore over 200-year-old reconstructed, hunting
lodge of Penzion U Fořta and modern wooden cabins created from original haylofts. The complex
includes the U Fořta restaurant, offering quality dishes made from local ingredients, and the self-
service restaurant Fořtovna. The resort features an grassy area, and right next to the resort, there is
an outdoor playground with various climbing structures, slides, and swings, this makes it the best
places to travel in Europe with the whole family.
Or information center where you can get advice onthe most beautiful hiking trails and places in the National Park Center Saxon Switzerland. From Mezní Louka, it is just a short distance to Pravčická brána (Pravčice Gate), the Kamenice RiverGorges, or the ferry dock in Hřensko, from where you can sail to Germany by boat. U Fořta promises an unforgettable stay, blending tranquility, exploration, and authentic experiences.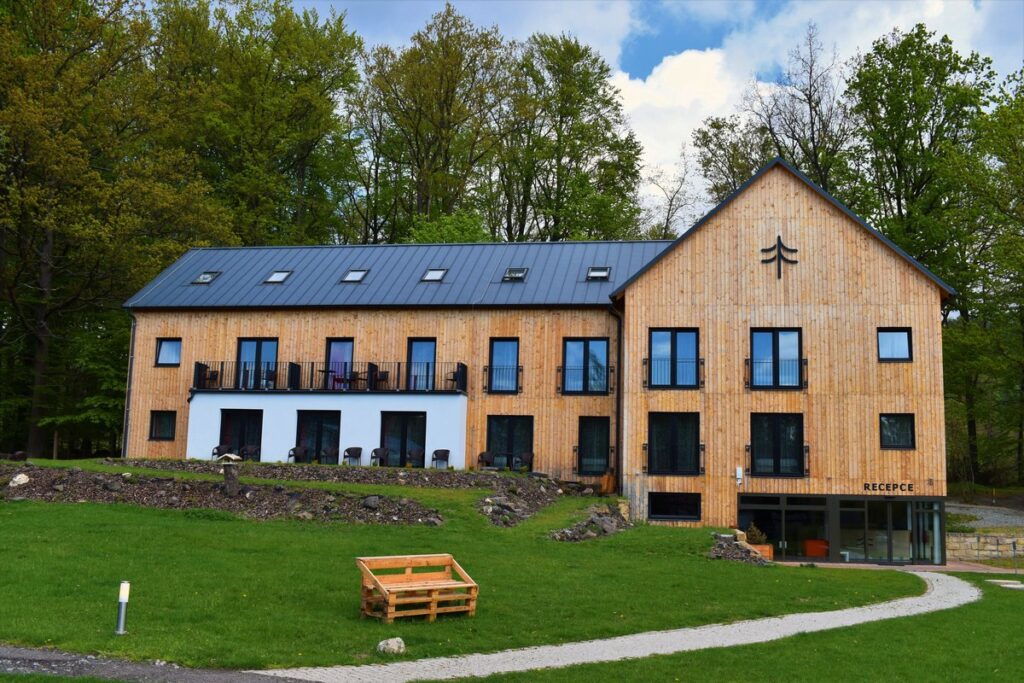 5. TRAPANI HOUSE CAMPING
Trapani House Camping is a delightful glamping place located in the charming village of Růžová, nestled within the picturesque Bohemian Switzerland region. This unique camping site offers a refreshing blend of nature, comfort, and relaxation, allowing guests to immerse themselves in the beauty of the surrounding landscapes.
At Trapani House Camping, you'll find a range of accommodations designed to provide a memorable glamping experience. From cozy wooden cabins to luxurious safari-style tents, each option is carefully crafted to offer comfort and convenience while preserving the rustic charm of outdoor living. The interiors are tastefully furnished, featuring comfortable beds, cozy seating areas, and thoughtful amenities.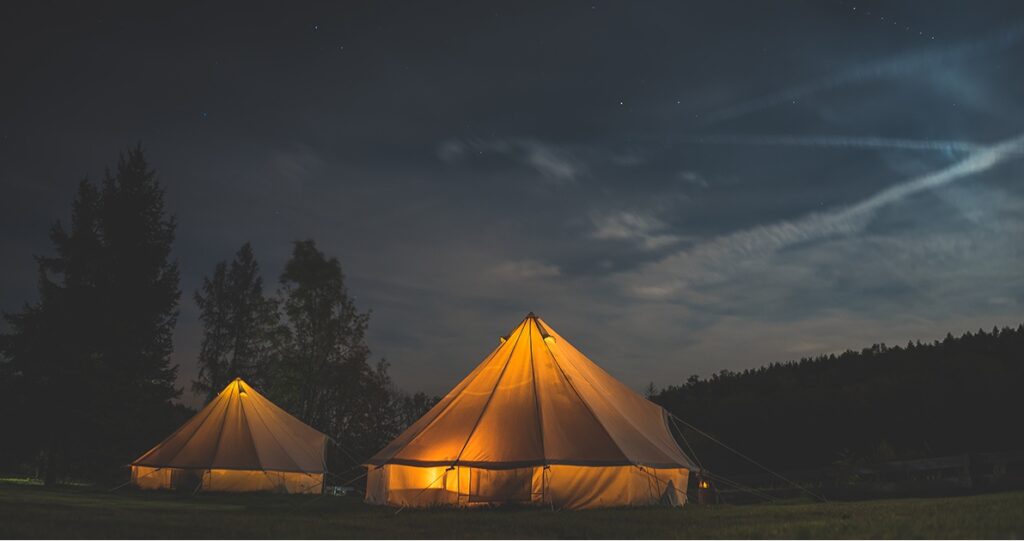 Don't just be inspired by these unique accommodations. Allow us to introduce one of our unique
trips that you can combine with your accommodation not only in Czech Switzerland! 🙂