After less than a 2 hours flight from Amsterdam to Prague, and just a 2 hours drive to the north, I found myself surrounded by mountains, scenic views and nothing but natural surroundings!
This amazing nature area in the north of the Czech Republic looks like it's straight from a storybook with so many stunning spots and fairytale forests it's a definite must visit for avid photographers and Instagram-enthusiasts like me!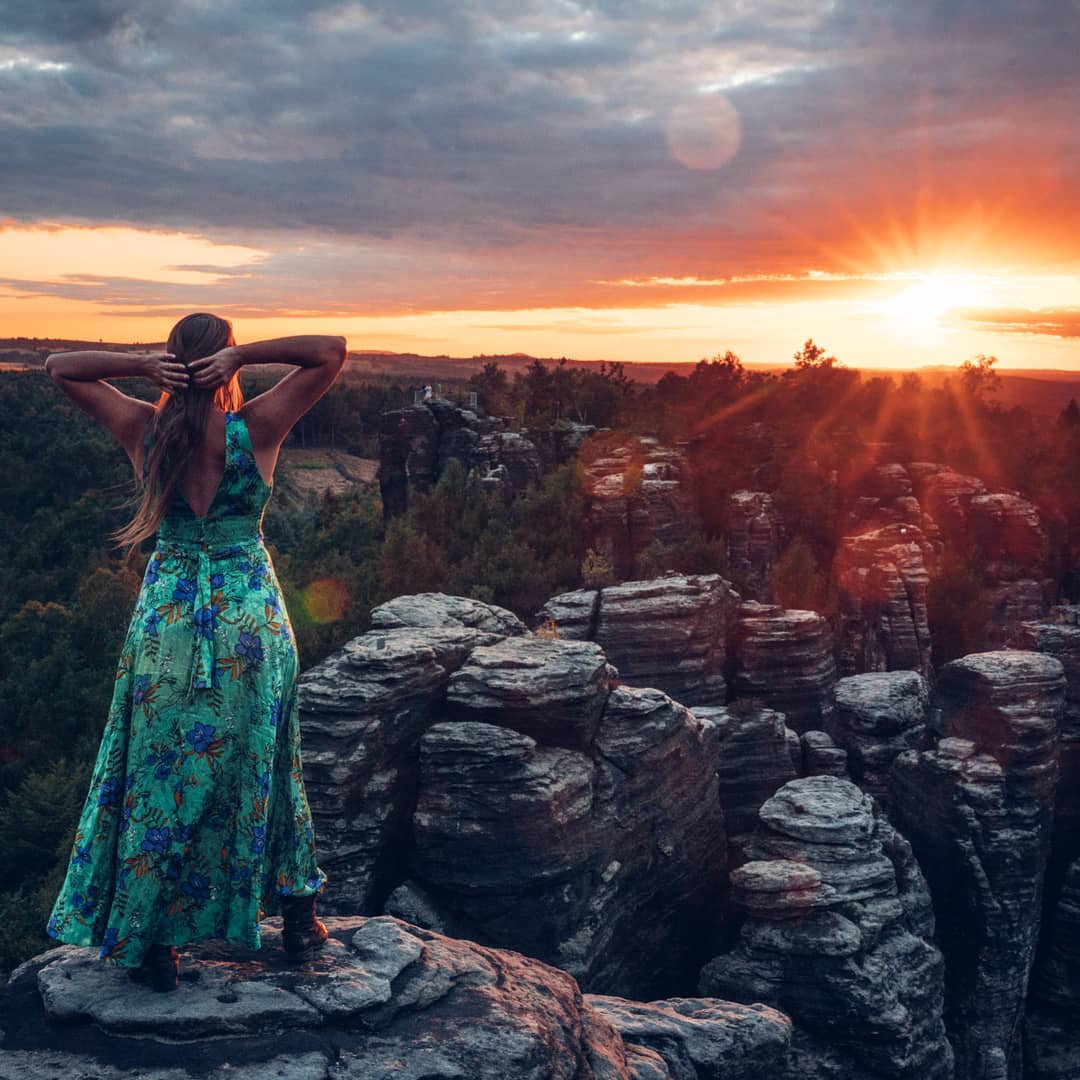 Before this, I didn't even know of the existence of this stunning National Park. But I'm so happy that Northern Hikes took me here and can't wait to come back to see it in every season of the year, as autumn and winter time should be stunning here as well.
EXTREMELY "INSTAGRAM-MABLE"
Next to the fact that it's beautiful, pure and quiet, it is extremely Instagram-mable as well! What do I mean by that?
I could also have said that it's extremely photogenic, but because the rocks, natural bridges and viewpoints are easily accessible, quite safe to climb, with views begging to be photographed, they make the perfect setting for Instagram worthy pictures to enrich your personal photo gallery.
Just see for yourself and be the judge of my Instagram gallery result of a perfect day:
If green is one of your favourite colors, like mine, then you will be in for a treat! And because the lovely guys of Northern Hikes knew exactly where to go to get the most spectacular shots, we had a very active and fun filled day with more than 4 sites visited throughout this region.
Although I loved everything, I will show you my 4 favourites which make the most Instagrammable spots of Bohemian Switzerland in my opinion, through many of my own pics.
After a scenic drive through the Czech countryside our first stop was at the entrance into the canyon where the Kamenice river flows.
GORGES OF KAMENICE
Because we arrived here first thing in the morning it wasn't that crowded yet, but still a bit chilly at the start of July. The wooden boardwalks past the river make it a convenient walk through the high ravines. Being surrounded by nothing but greenery truly felt like walking through an enchanted forest, with of course plenty of photogenic spots: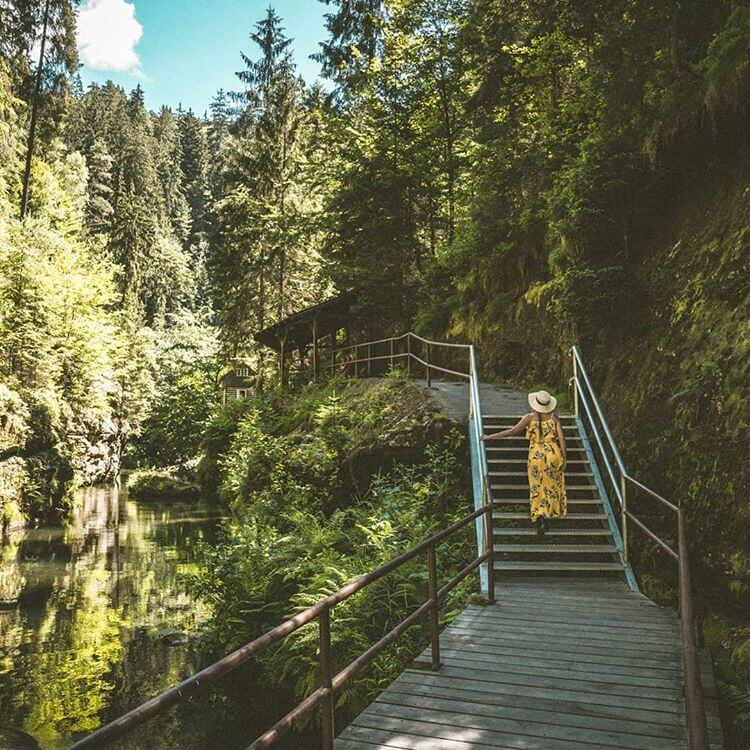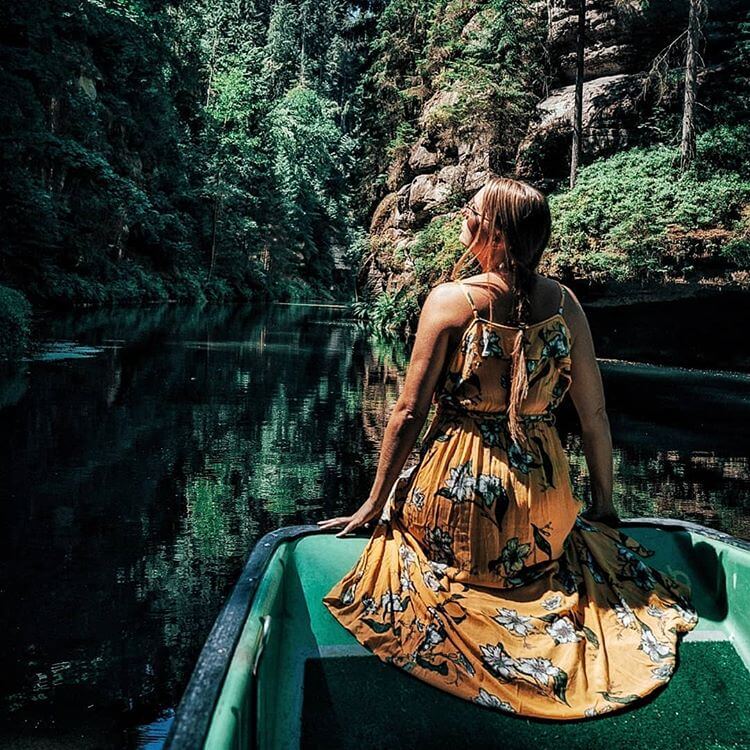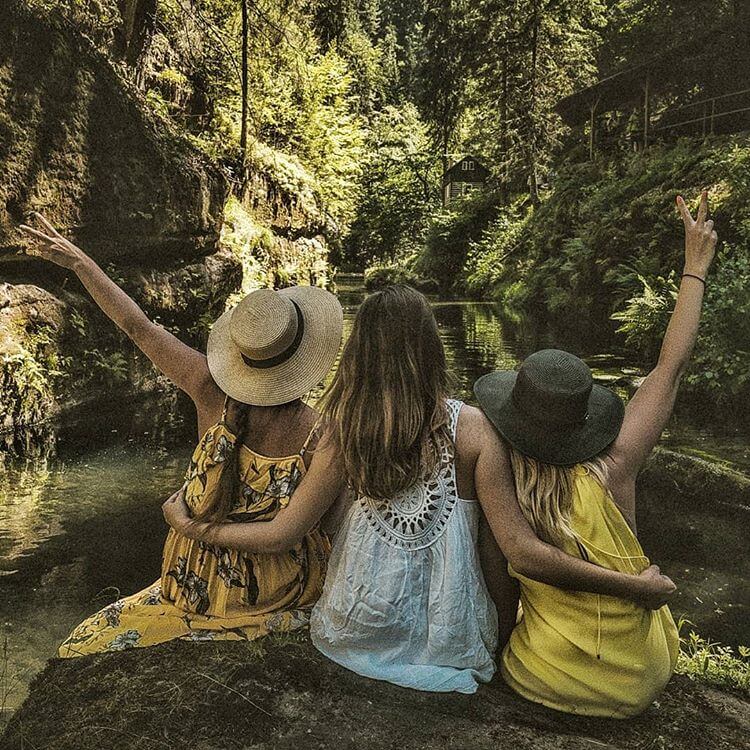 The path ends up to the docks where a boat departs for an easy 20 minute boat ride with your own personal captain steering through the gorges with a pole, to prevent any motor noise or disturbance of nature
I really enjoyed the private boat ride with Tomas and Vojta of Northern Hikes, my friend Samantha, my new IG friends Maxime and Sabina and their wonderful dog Rosie, gliding through these bright green colored waters, creating the perfect scenery for pictures.
All while relaxing and submerging ourselves into the beautiful natural surroundings of the National Park, with a very Instagrammable and quite famous cabin view photo spot at the end of the ride.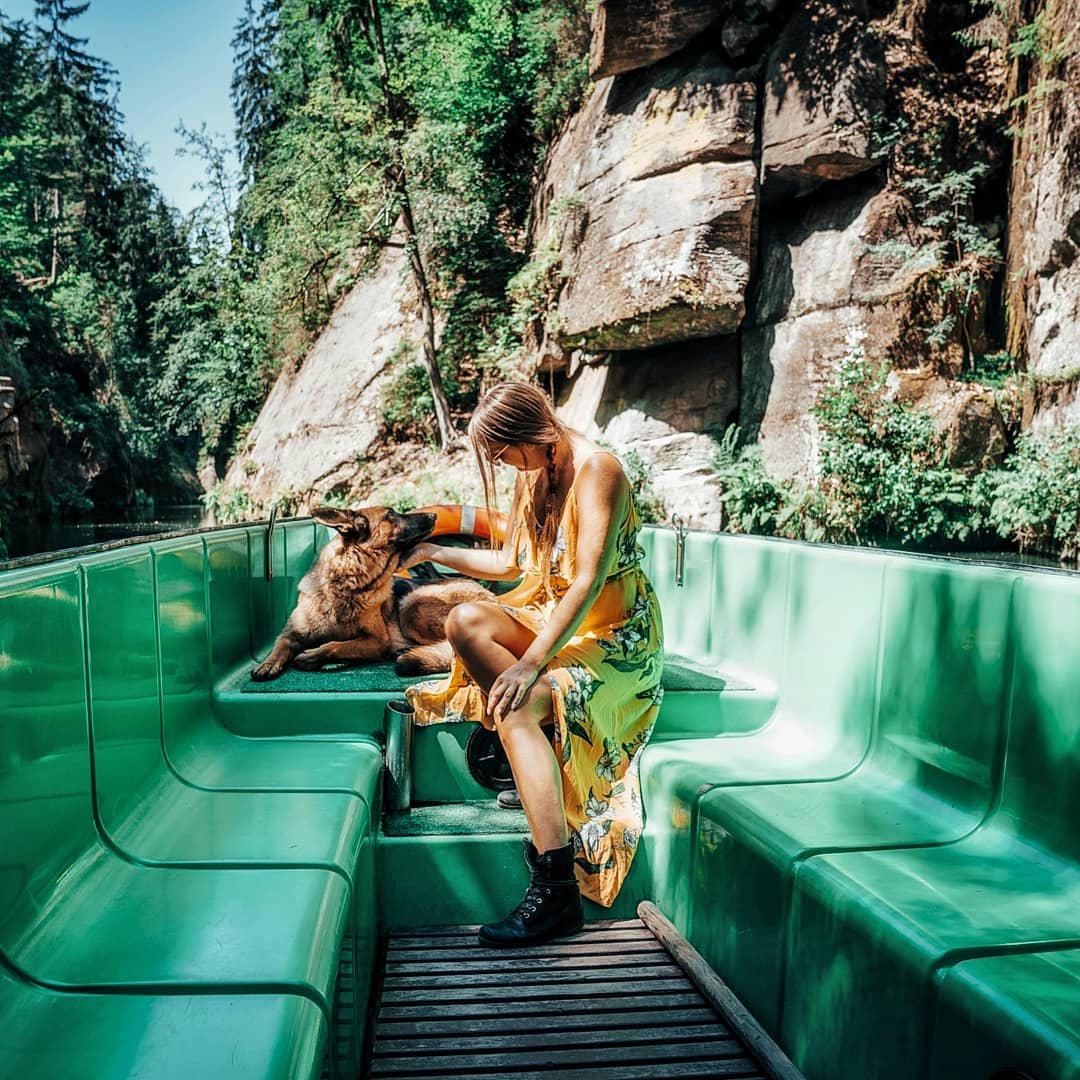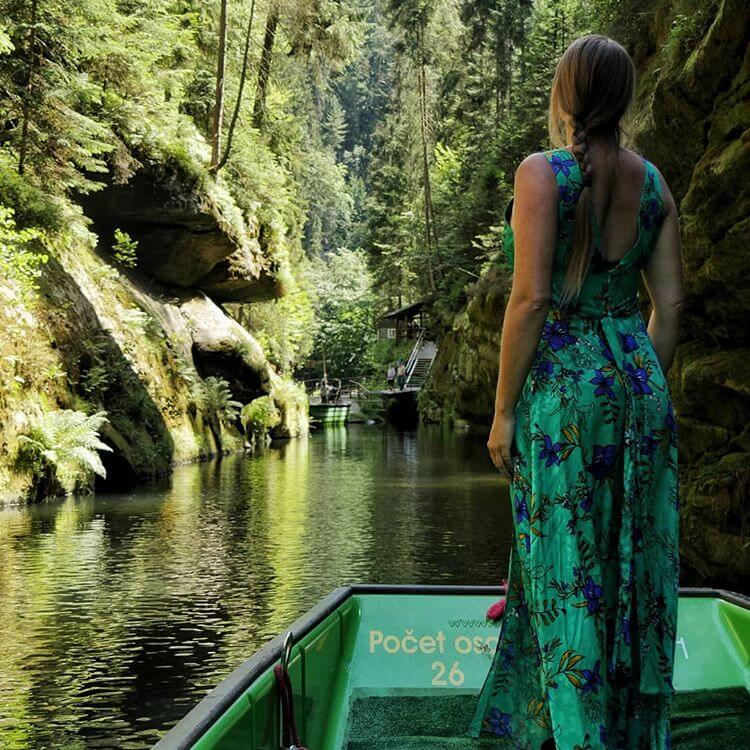 ELBE RIVER CANYON
After a delicious local lunch next up was the deepest sandstone canyon of Europe, looking out over the Elbe river from hundreds of meters height.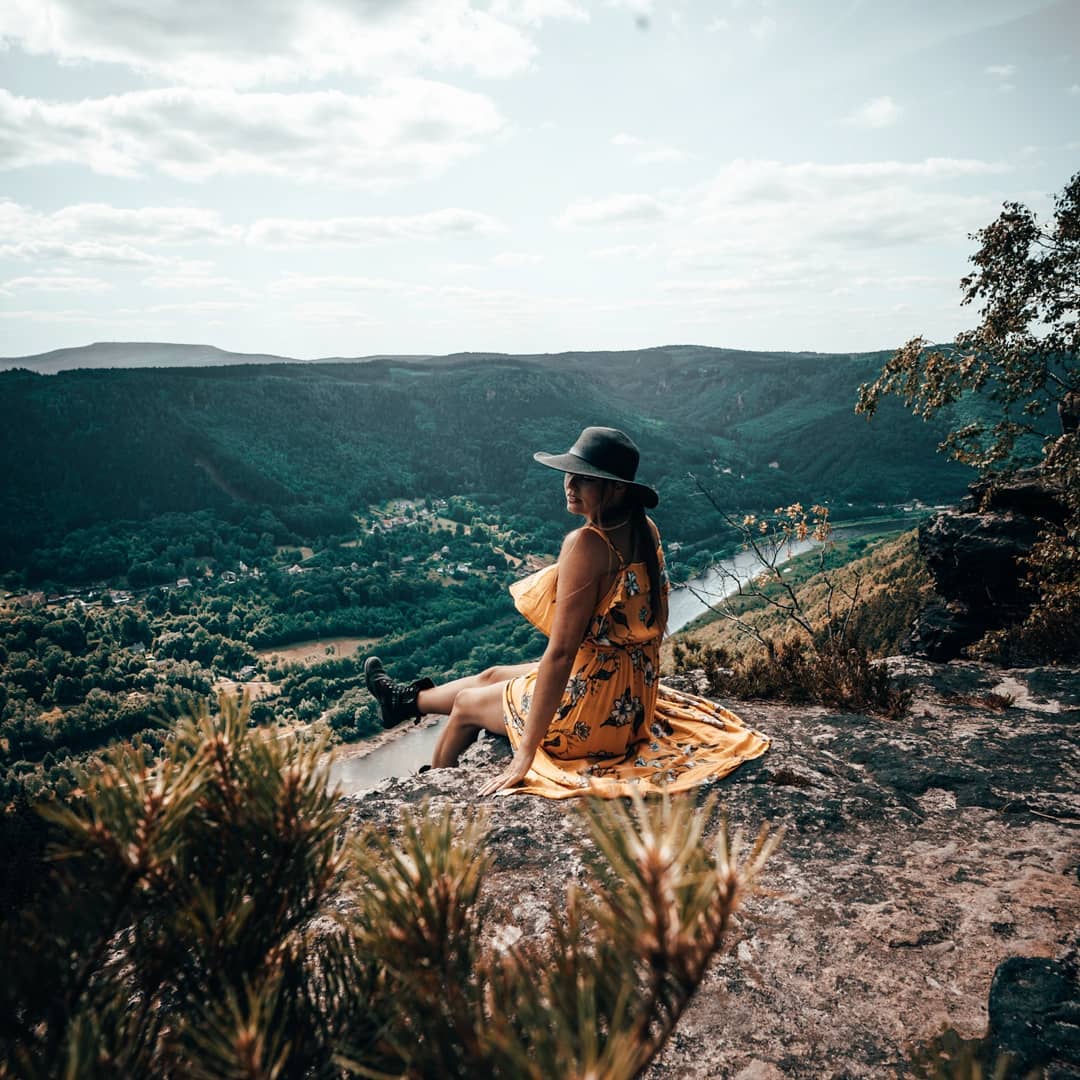 I was truly surprised to arrive at this wide plateau after an easy hike through the forest. With several spots to sit down and enjoy the 180 view over the canyon, this was truly one of the most stunning places I've seen in a long time, and can you imagine having this all to yourself? Definitely an Instagrammable spot, and in my opinion much more unique than for example the famous horseshoe bend pics from Arizona, I've seen so many times on Instagram already.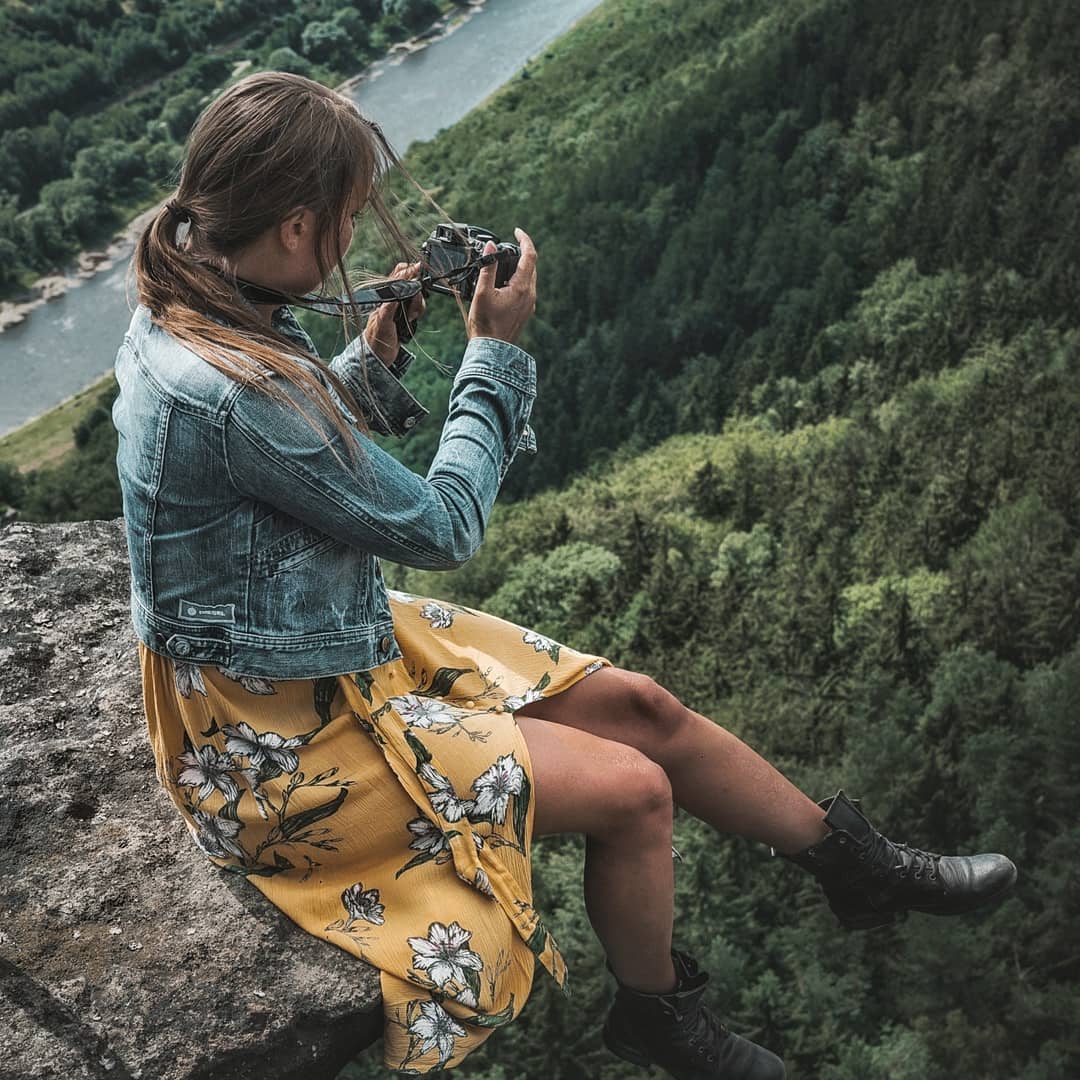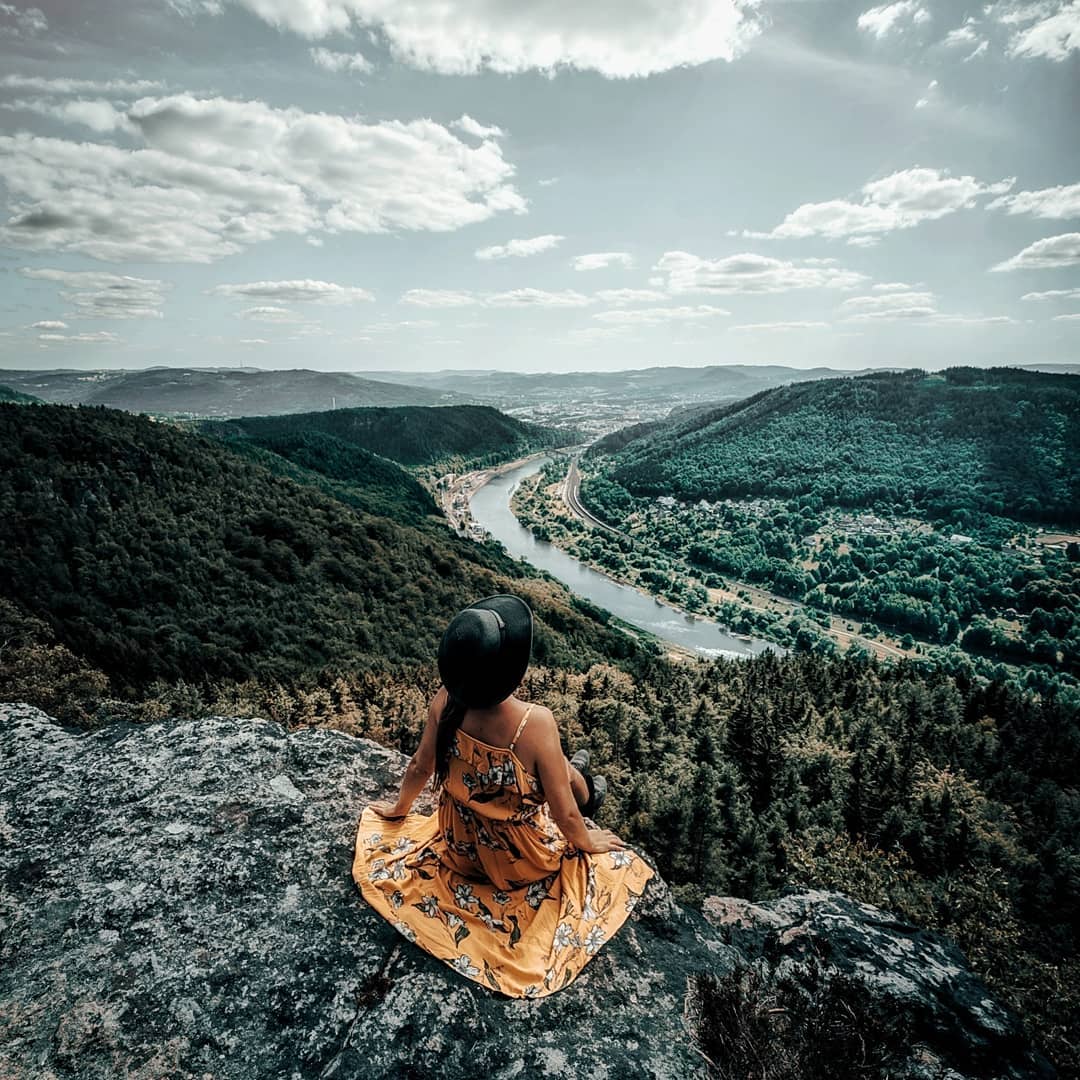 Of course we took a million pics here as well and I could have sat there all day, but that would have been a shame as there was so much more to see.
For our next stop, we crossed the border to the German part of the National Park to the:
BASTEI BRIDGE
This famous rocky bridge is located in the Saxon National Park, looking out over table mountains and surrounded by impressive rock formations with access to the Medieval Neurathen Fortress ruins.
The park is easily accessible and offers several viewpoints towards the mountain bridge and rocky surroundings. As it is quite a big area, again there are plenty of quiet spots to get less crowded ''Instagrammable pics'' and the views certainly make pretty impressive shots!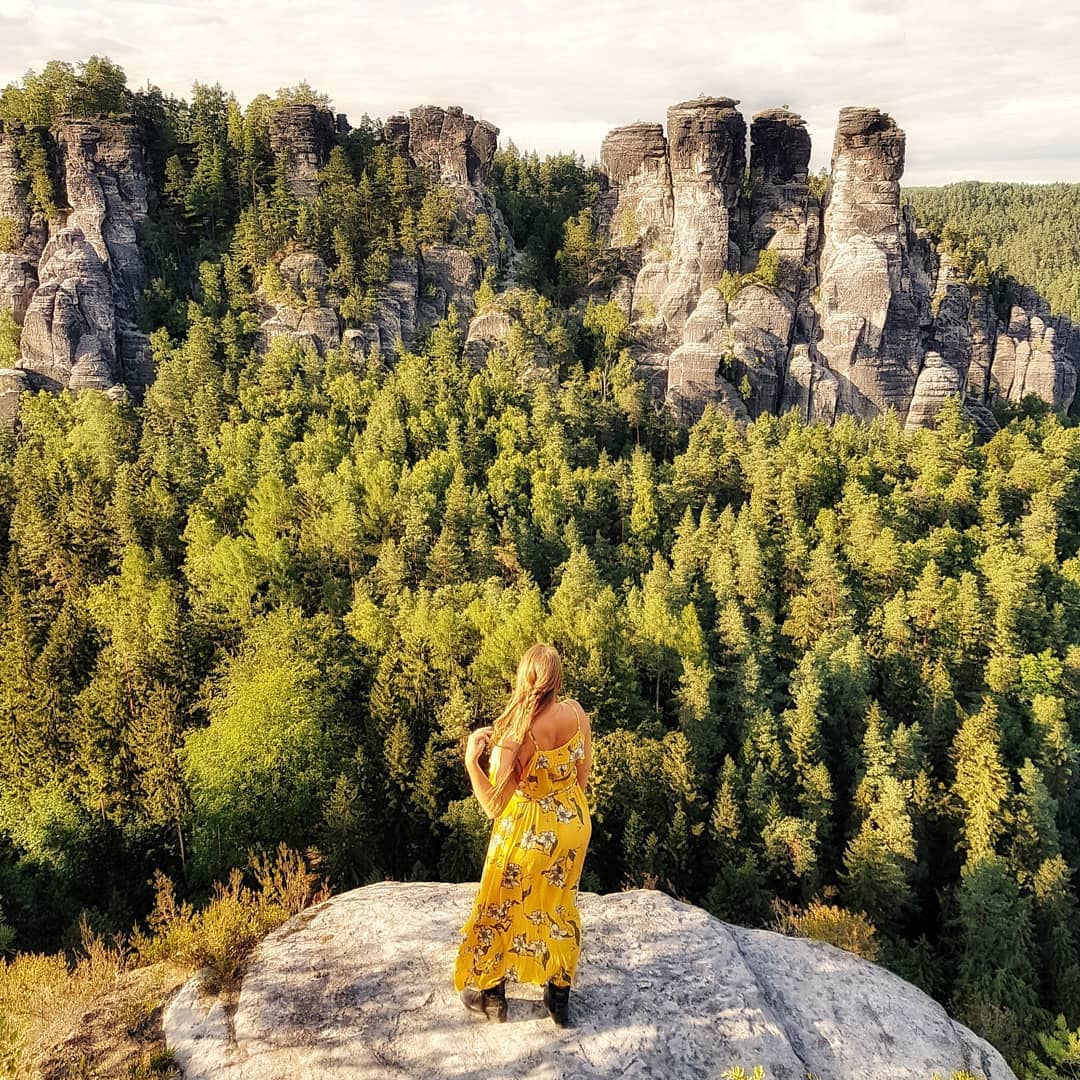 TISA
But my absolute favourite were the Tisa Sandstone formations which made a perfect and spectacular ending to an exhilarating day! This fairy tale place is situated on the west side of the Bohemian Switzerland with rock pillars up to 30 meters high!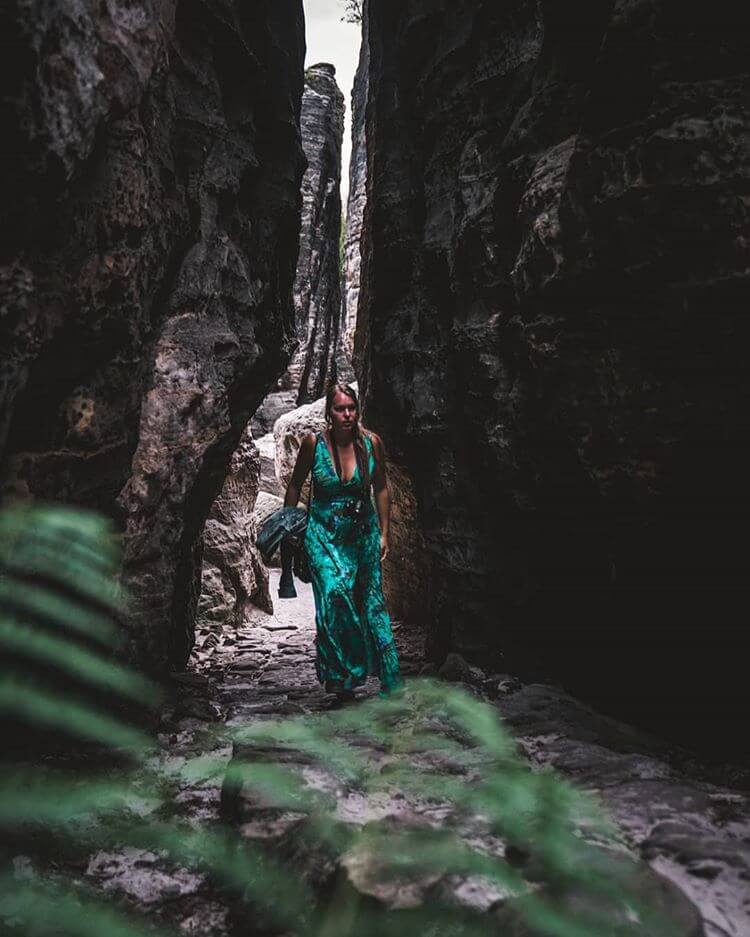 When we entered this natural labyrinth I was amazed by the sheer height of the rocks surrounding us, which made it feel like such a special place, especially around sundown when there was almost no-one around.
It's no wonder the makers of the fairy tale movie: 'Chronicles of Narnia' chose this location for the scene where the actors enter the magical fictional land Narnia!
Walking around here felt like pure magic, especially when rewarded with views like this! After an easy 10 minute hike up the sandstone formations we entered this spot with 360 views over the beautiful country side and the impressive rock pillars.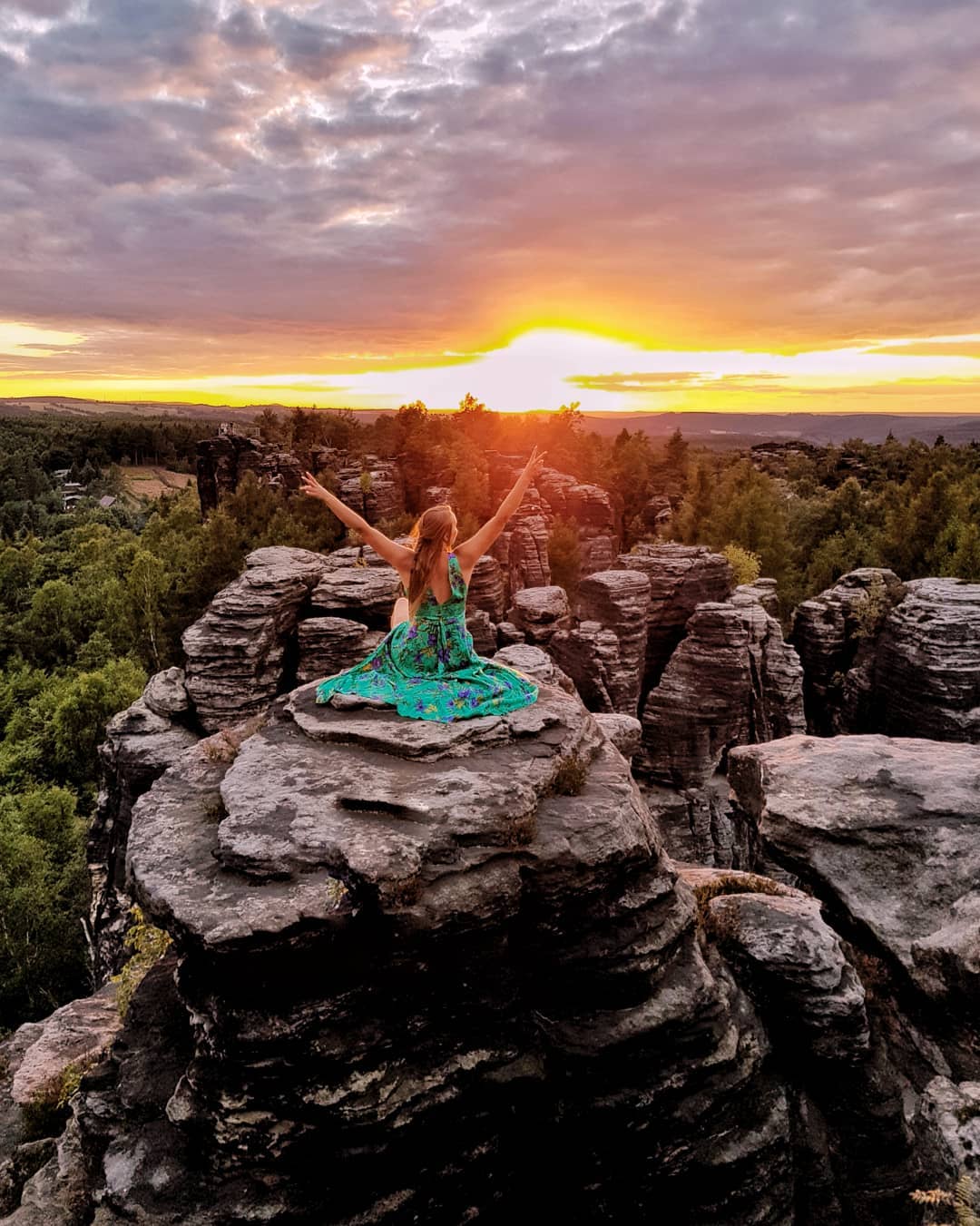 Although safety always comes first for the guides, they are happy to help you climb to nearest rock pillars to get those spectacular Instagram shots, like this one.
Can't wait to see for yourself and discover this magical National Park in the Czech Republic? Then check out the tours Northern Hikes has to offer, as there is so much more to see and do for everyone, as you don't have to be an experienced hiker to do these tours.
The guys of Northern Hikes are super friendly, experienced and certified, and are happy to advise you or customize your trip to make sure you will have a great day!
Thanx Vojta and Tomas for an amazing time, looking forward to come back for more!
And a special thanx to my wonderful friends Samantha of @Wanderingwanderluster and @Maxime_North for taking these spectacular Instagrammable shots of me during the trip!
For more information about the beautiful Czech Republic and other sights worth visiting, check out my latest blog on: https://www.authenticchiclifestyle.com/, or follow me on social media: https://www.instagram.com/authenticchica/ or https://www.facebook.com/authenticchica/ where I post daily pics.